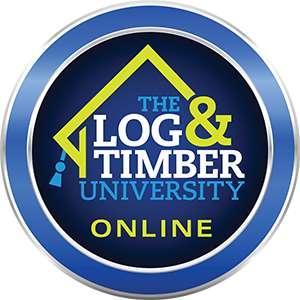 If you're serious about building a log, timber frame, hybrid or custom wood home, the Log and Timber University course is a must for you. Your investment will pay off by helping you make good decisions along your path toward building your dream home. Knowledge is Power, and you need this knowledge to help you get on the right track, and stay on course throughout your project!
Our University course presenters have decades of experience in custom home design, planning and construction. And they can offer you UNBIASED guidance to help you build your dream home. In addition, the course draws upon over 50 years of knowledge contained in the pages of Cabin Living and Log & Timber Home Living Magazine as well as the Log and Timber Home Institute.
The Log and Timber Home University is the hands-down choice when you're ready for a graduate's degree in building your Log or Timber Frame home. The in-depth half-day course provides detailed, step-by-step instructions to save thousands, avoid pitfalls and correctly budget, plan and build your dream home. Attend The Log and Timber Home University and graduate with the knowledge that you need to confidently build your own custom wood home!
University Registration includes the following:
*VIP lanyard and badge that gives you FREE admission to any of our shows forever.
*Informative step by step Course Outline book.
*A sampling of our magazines
*Other course materials
*Snack & Beverage Service during seminar